Artist's Statement
I have a reverence for art as a communication tool.
I feel that art, when it is at its best, speaks from the deepest part of us with a language that has no words.
I work with strong abstract lines that expand beyond pure design to make statements about human nature.
My sculptures speak of my belief
that we are capable of far more than we are led to believe.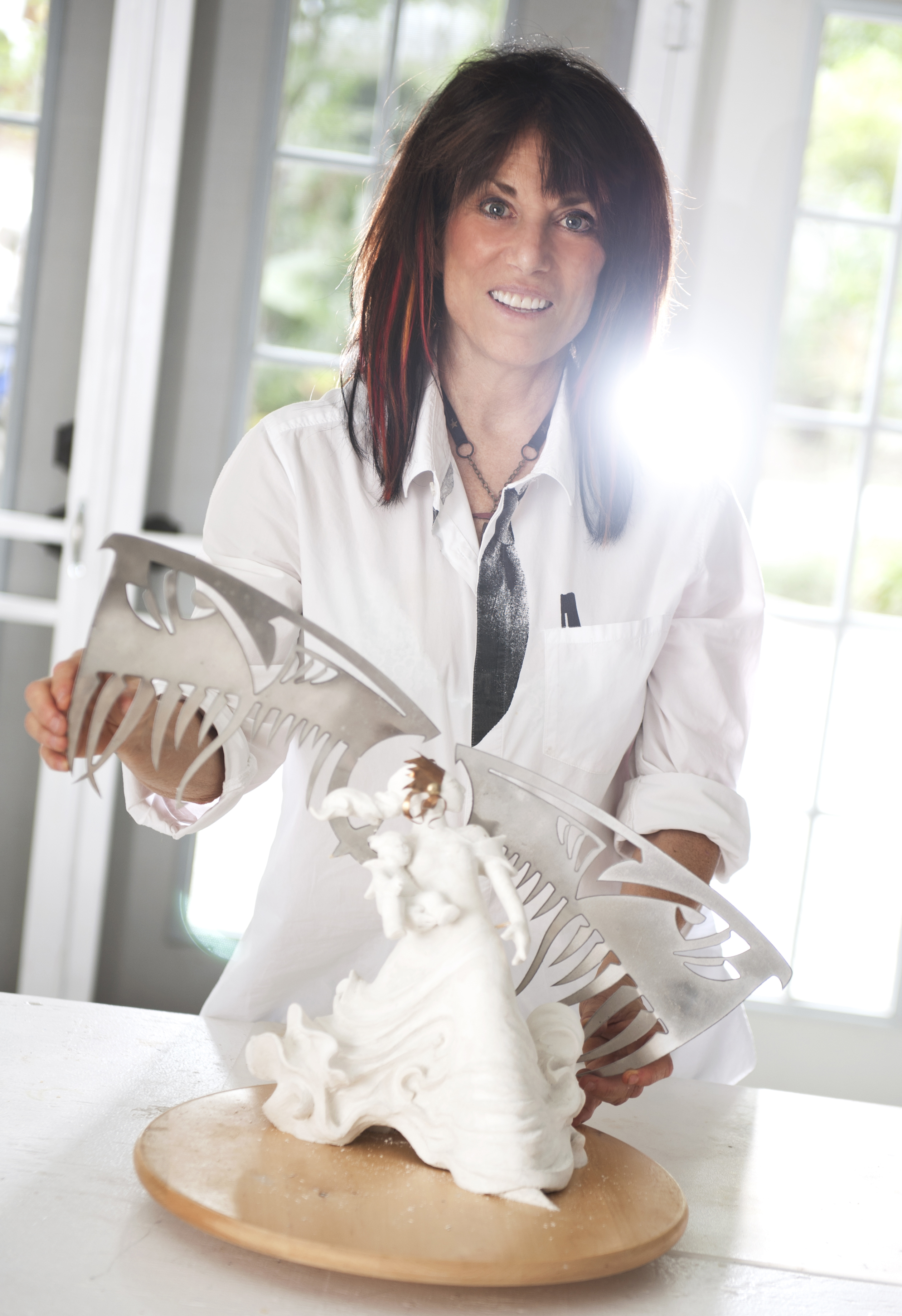 NINA WINTERS was born in New York City and schooled at the College of Fine Arts and Architecture at Cornell University, the School of Visual Arts, Parsons School of Design and Hunter Graduate School. 
She began her career as an artist in the field of paint and color. She made the cross to three-dimensional art after having a vision of monumental sculptures enduring through time as positive communications to society.
Today she makes this vision a reality. Nina created a 7 1/2′ X 9′ monumental commission, "The Galactic Samurai/Confrontation of Evil", which was installed at the private residence of the Senior Vice President and Global Chief Technology Officer of PepsiCo. She recently spent three months in South Africa creating a 6′ x 10 1/2′ monumental  "Coeur de Lion" for the Castle Kyalami near the city of Johannesburg
Her work in bronze brings forward her sophisticated knowledge of the use of color that she developed in her painting years. She uses patinas in powerful ways to convey the stories she tells of the human potential.
Working from her studios on the waterfront of Clearwater, Florida and in the forest of New Ipswich, New Hampshire, she creates sculptures that are unique solutions for corporate, home and hotel architecture as well as monumental works for urban and country environments.
Her clients include corporate officials from Paine Webber, the Wall Street Group,  Hiram Walker, American Express, Lionhead Studios, Ltd. (Peter Molyneux), and PepsiCo.
Her work is in major collections in the United States, Canada, England, Africa and Australia – including the private collections of celebrities such as Chick Corea (Grammy Award winning jazz musician), Howard McCrary (Grammy Nominee music producer), Joseph Shabalala – Lead singer of the Grammy award winning band Ladysmith Black Mambazo (backup on Paul Simon's Graceland album), and David Campbell (Grammy Award and Oscar winning arranger).
Her bronze work is featured in the Paramount film "Kiss the Girls" starring Morgan Freeman and Ashley Judd.
Gallery shows include The American Institute of Graphic Artists (NYC), The Art Directors' Club (NYC) -AWARD, St. Petersburg Center for the Arts (FL), Stephen Christopher Gallery (Rancho Mirage, CA), Rick Moore Fine Arts Gallery (Naples, FL), The Pen & Brush (NYC) –  TALLIX FOUNDRY AWARD,  The Aaron Faber Gallery (NYC), Dolphin Galleries (Maui, Hawaii), Stackenborg/Greenberg (Sarasota, FL), Chic Evolution in Art (Atlanta, GA), Rebecca Low Gallery (Dallas/ Ft. Wort, TX), Tasca Gallery (Madison Ave. NYC), Folkways Gallery (Peterborough, New Hampshire), American Institute of Graphic Artists (New York, N.Y.), Watterson Alley Gallery (Clearwater, Florida), Elaine  Fleck Gallery (Toronto, Canada), Menaul Art Gallery (Clearwater, FL) – SOLO SHOW, Capricorn Studios (Ybor City, FL), Museum of Science and Industry (Tampa, FL), Galleria Mentana (Florence, Italy), The Tampa Museum of Art (Tampa, FL). 
.
As an award winning sculptor, she has proven her place in the world of art and shown that every piece can speak truth to millions.